BIOGRAPHY
Anna was born in Swansea in 1974 and trained at Central St Martins College in London and latterly at Edinburgh College of Art. Whilst at college her talent was recognised and she was awarded the Royal Scottish Academy's John Kinross Travel Scholarship to Florence, The Andrew Grant Travel Scholarship to the USA and Yale University Art scholarship.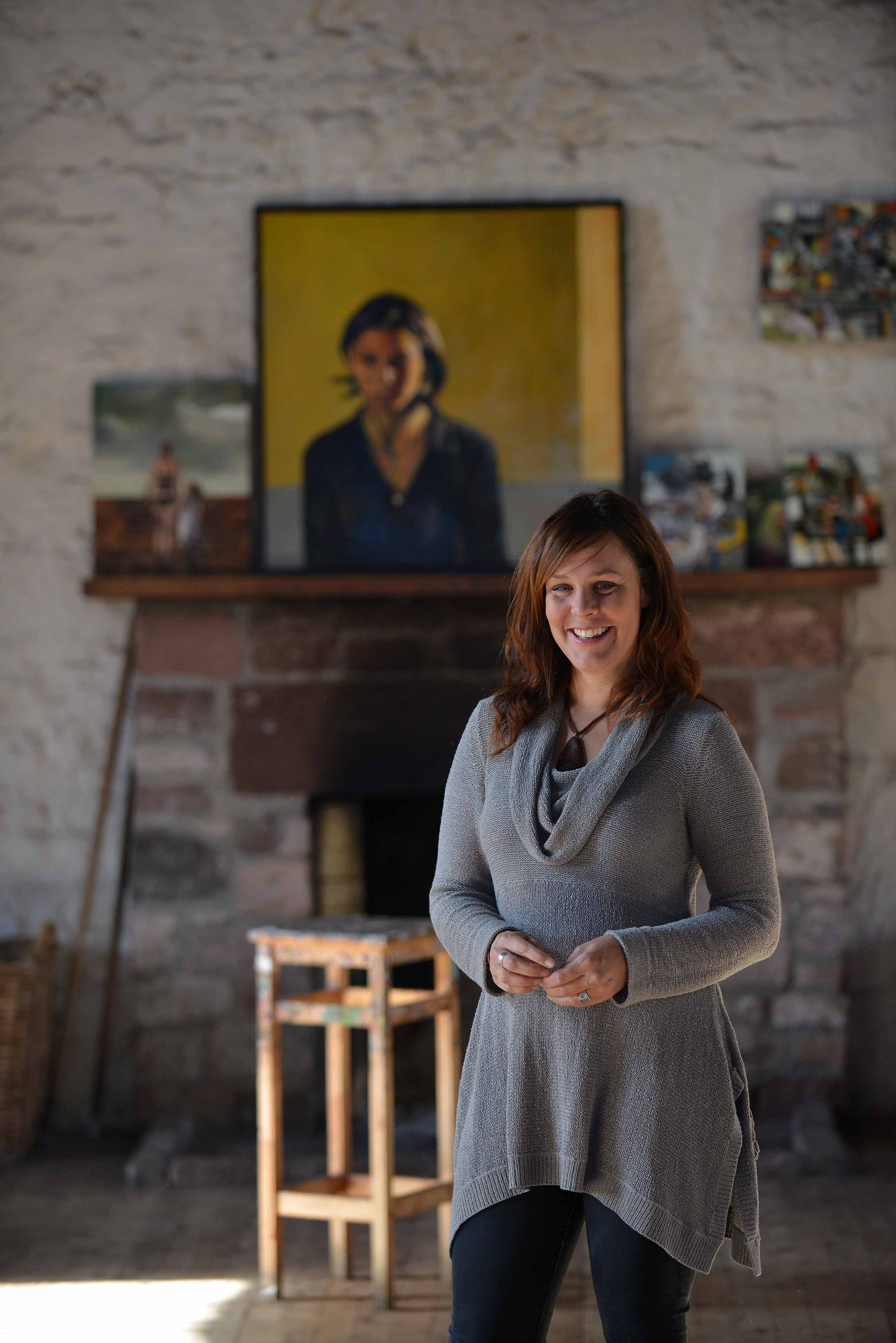 Since achieveing a postgraduate degree in Fine Art in 1999, Anna has painted some of the country's great and good and has featured in publications like The Times, Country Life and The Spectator. She has held solo shows in the heart of London's Mayfair and has featured in The Royal Society of Portrait Painters annual exhibition.
Anna's studio is in Dunbar, in the beautiful coastal county of East Lothian, some 30 miles from Edinburgh. She lives with her four children.
History
| | |
| --- | --- |
| 1993-1994 | Central St Martin's College of Art |
| 1994-1997 | Edinburgh College of Art, BA |
| 1996 | Yale School of Music and Art |
| 1997-1999 | Edinburgh College of Art, MFA |
| 1999-2001 | Tutor, Edinburgh College of Art |
| 1995-2015 | Portrait commissions |
SELECTED PORTRAIT COMMISSIONS
Susan Hampshire and her sisters
Brian Aldiss
Major General Irwin
Sir Ian Wood
Lady Helen Wood
David Warner
Lady Isabel Strathmore
Newhall College Cambridge Past Presidents
Lord Vallence of Tummel
Barry Turner
The Dalrymples
The Buchanans
Simon and Judith Miller
Craig Mackay
Jane Franchi
Baroness Wilkins and Maria Brenton
Lord John Thomas, Chief Justice of England and Wales
SELECTED EXHIBITIONS AND PRIZES
| | |
| --- | --- |
| 2014 | Annual Exhibition of Royal Society of Portrait Painters |
| 2013 | 'Jumping for Joyce' Exhibition, Francis Kyle Gallery, London |
| 2011 | 'This Twittering World' A celebration of T.S Eliot's four Quartets. Group Show, Francis Kyle Gallery, London |
| 2010 | 'That Gong Tormented Sea' contemporary artists pursue the idea and reality of Byzantium. Group Show, Francis Kyle Gallery |
| 2008 | Rodina: Twenty five Artists from the west winter in Russia. Group Show, Francis Kyle Gallery, London |
| 2006 | Everyone Sang: A view of Siegfried Sassoon and his world by contemporary Artists. Group show, Francis Kyle Gallery, London |
| 2005 | Lair of The Leopard: twenty artists go in search of Lampedusa's Sicily. Group exhibition, Francis Kyle Gallery, London |
| 2004 | Solo exhibition Francis Kyle Gallery, London |
| 2003 | Roma, Group show, Francis Kyle Gallery, London |
| 1999 | Sir Robin Phillipson Memorial Medal, Royal Scottish Academy |
| 1999 | Group Show Visual Arts Scotland, Royal Scottish Academy |
| 1998-2001 | Elizabeth Greenshields Foundation Grant, Quebec |
| 1997 | John Kinross Travel Scholarship to Florence, Royal Scottish Academy |
| 1997 | First prize Royal Scottish Academy Student Exhibition |
| 1996 | Yale University Summer School Scholarship |
| 1995 | Solo Exhibition Corn Exchange, Newbury |
| 1995 | Solo Exhibition Out of the Blue Gallery, Edinburgh |
info@annawimbledon.co.uk
07967 153 303